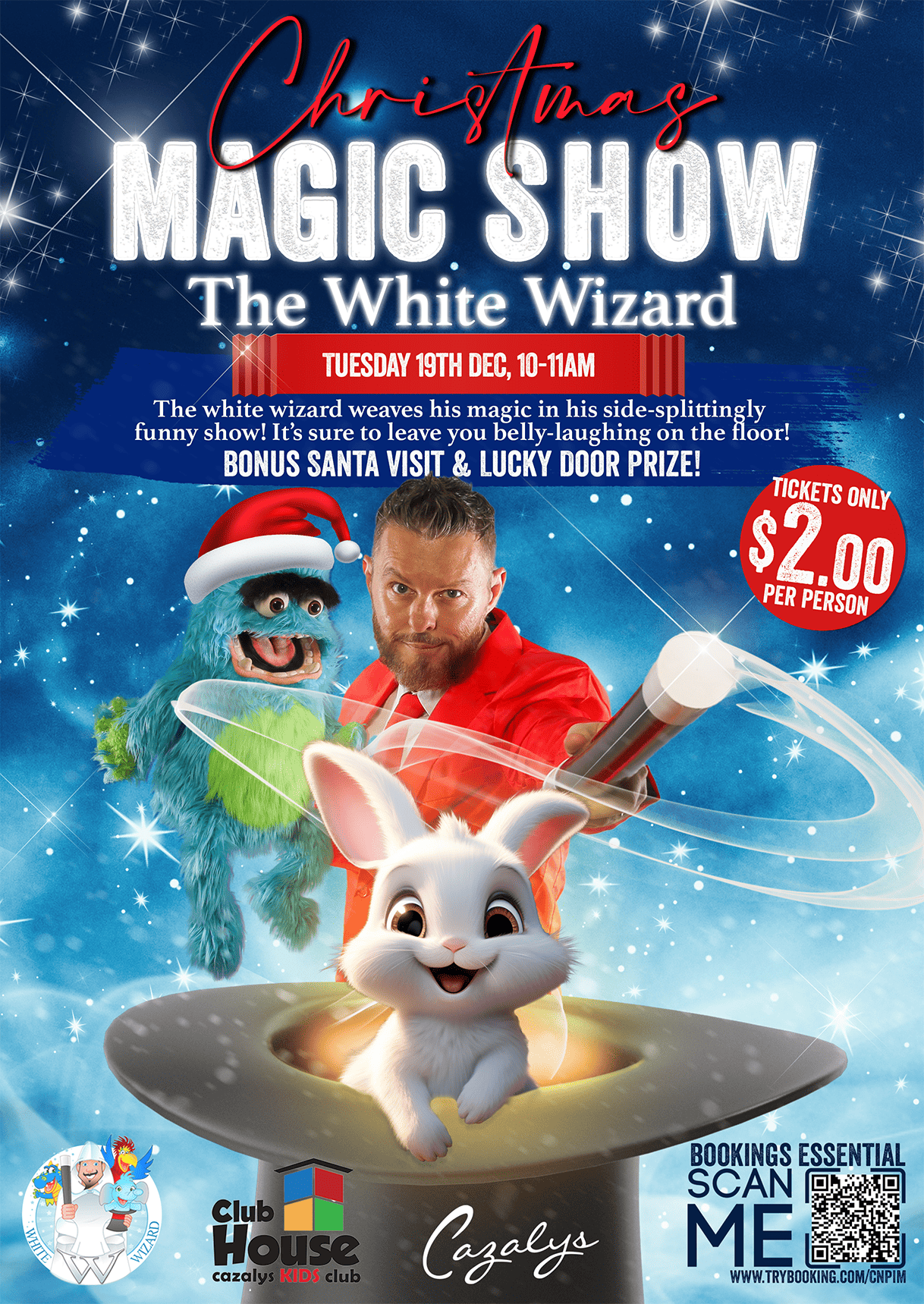 CHRISTMAS MAGIC SHOW
WITH THE WHITE WIZARD
Tuesday 19 December 2023 10:00 AM – 11:00 AM
Join us at Cazalys and watch in awe as The white wizard weaves his magic in his side-splittingly funny show!
It's sure to leave you belly-laughing on the floor!
Santa will be dropping in for a visit with some yummy chocolates for the kids and we will have a lucky door prize on the day!
Tickets are Essential!
$2 per person
All proceeds from this event to be donated to a local charity.
Please note: This is a family / children's magic show.
Children must must supervised by an accompanying adult.
SANTA SACK

HO, HO, HO!
$15,000 PRIZE GIVEAWAY FOR CHRISTMAS
Use your card around the club for entry into our Santa Sack draws.
Every $10 turnover in the gaming room or pos transaction at the bars,
restaurant, bottleshop or bingo will earn you entries.
Then be present on Tuesday December 5 for the draws.
50 x Hamper draws between 12-3pm + 50 x Hamper draws from 6-9pm
plus
$5,000 in assorted CASH prizes
Each hamper is valued at approx $100, filled with Christmas goodies, 1/2 ham and a Lions Xmas Cake!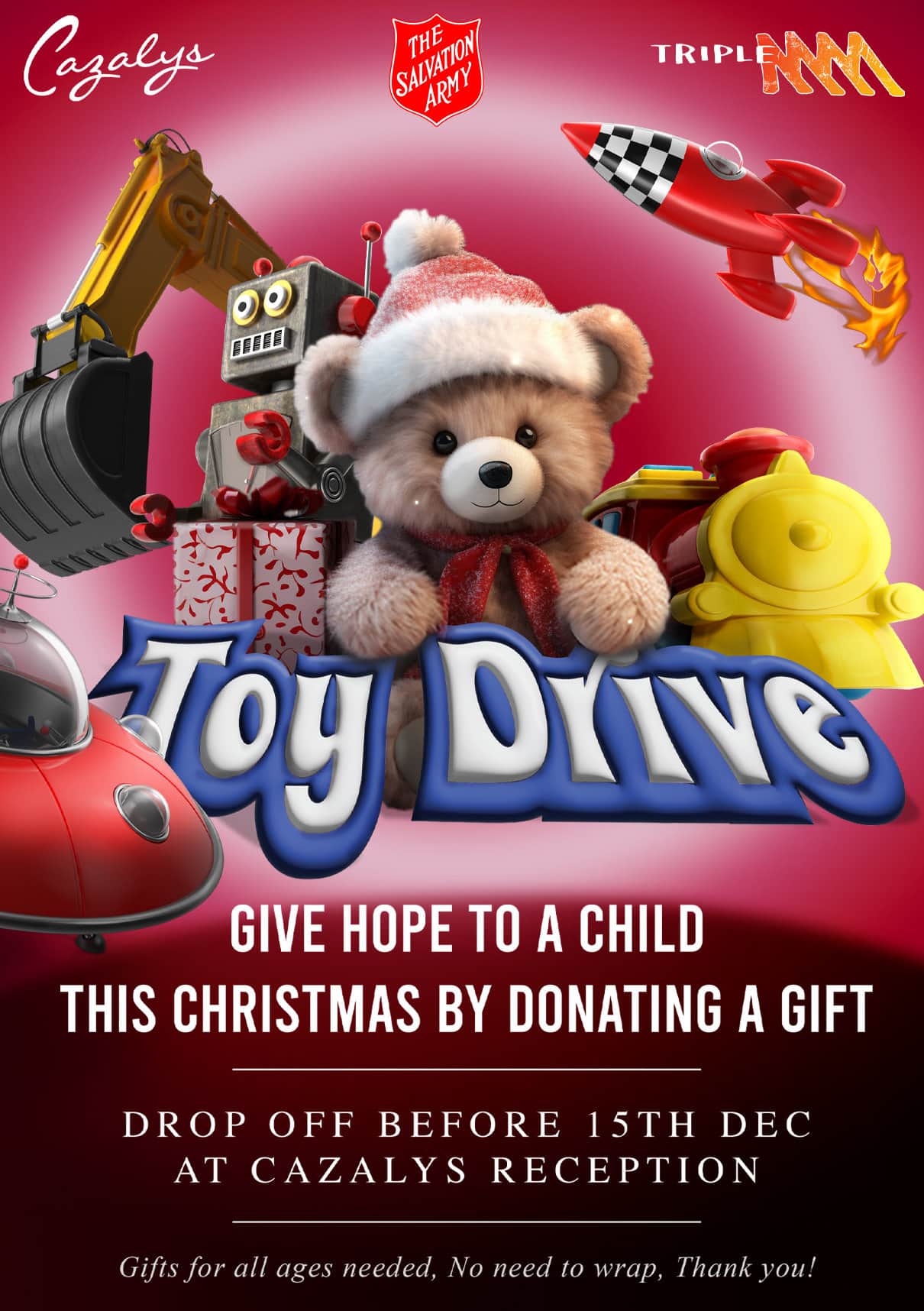 CAZALYS & TRIPLE M TOY DRIVE
HELPING CHILDREN IN OUR COMMUNITY AT CHRISTMAS
DROP OFF TOYS BEFORE DEC 17

A joint collaboration which brings JOY to so many disadvantaged families in our community at Christmas time.
Drop off gifts for all ages into reception at Cazalys before Dec 17, South Cairns Sports Club or Trinity Beach Sports Club before Dec 14!
All gifts donated to the Salvation Army who will wrap and distribute to families in need this festive season.
It is the season of giving…show your support
CASH OR CAR
NEXT DRAW IS FRIDAY 8TH DECEMBER
Simply spend $20 on the gaming machines or POS transactions for entry into the draw.
Fortnightly draws with:-
• 10 x $100 Fuel Cards to be won
• Winner will get to choose between $20,000 in cash or a VW Polo*
 Winners will have 1 minute to claim their prize before redraws commence.
Redraws will continue until all prizes have been claimed.
At the discretion of Management, the final draw date is to be determined.
The final draw prize will be the VW Polo* which is displayed at Cazalys Cairns.
*members must be present to win
Terms and conditions apply
NYE AT CAZALYS

CRUISE INTO THE NEW YEAR AT CAZALYS
Cruise into the New Year at Cazalys…Join the party of the year!!
Over $35,000 in Cash & Prizes to be won including 2 x $10,000 Cash prizes and a $5,000 Royal Caribbean Cruise – 5 x $1,000 Lucky Pokies and much, much more.
Live bands, roving entertainment, Ships Bogan Bingo, Love Boat Trivia, Beer Tasting, Cocktails in the Tiki Bar and entertainment for the kids!!!
or BOOK our VIP Captains Dinner for $49pp
(2 course menu plus reserved stage seating & welcome bubbles)
What more can you ask for at the best club in Cairns, Cazalys….
HAPPY RENEW YEAR

CRUISE INTO THE NEW YEAR AT CAZALYS
Renew your Cazalys membership TODAY to enter the draws this NYE.
There are 2 x $10,000 CASH PRIZES to be won
1 x $5,000 ROYAL CARIBBEAN CRUISE plus
5 x $1,000 LUCKY POKIES drawn on Sun Dec 31st!
Total –  $30,000
Renew TODAY, and each time you visit the club
Swipe your card for entries, the earlier you
renew, the more entries you have to
Cruise into the New Year at Cazalys.
REFER & WIN

REFER FAMILY OR FRIENDS TO BECOME A CAZALYS MEMBER
WIN A $50 BARASSIS VOUCHER EACH!!
Don't keep you Cazalys membership a secret!
With so many benefits of being a member of Cairns Premier Club why not spread the news.
Refer family or friend to join as a Cazalys member and quote your membership number – you will both go into a draw to win a $50 Barassis meal voucher each.
Ask at reception for more details.
* winners drawn on First Friday of each month.
Terms and conditions apply
MAJOR JACKPOT

DAILY GAMING PROMOTION
ATTENTION! COMPANY HALT!
Cazalys, Souths and Trinity Beach Sports Club have a MAJOR announcement.
Win a Major Jackpot in our gaming rooms and we will give you a Bonus of $100 Cash.
So…MARCH on down to the club.
*T&C apply
*Selected Machines
*always gamble responsibly
DOUBLE THE MINI

DAILY GAMING PROMOTION
Use your membership card at the Kiosk between 10am and 1pm for a chance to receive a "Double the Mini" voucher.
Play the selected gaming machines that same day the voucher is issued, and we will "Double the Mini" when a Mini Jackpot is awarded on the gaming machine.
One voucher equals one win on day of issue, if the member receives more than one voucher when swiping their card in the kiosk, then they can claim one "double the mini" for each Mini Jackpot awarded on the gaming machines per voucher.
*Terms and conditions apply. Must play 1cent spins on selected gaming machines, which will be clearly marked for participation in the promotion. Vouchers are only valid on the day of issue.