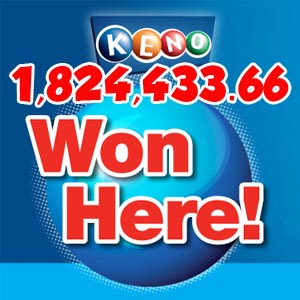 Grandfather wins $1.8 million at Cazalys
A 61 year old Cairns grandfather has won a $1,824,433.66 Keno Jackpot at Cazalys.
The winning Keno ticket was purchased at 4:30 pm on Sunday April 14, 2013 at Cazalys Cairns.
With two Jackpots over $1million won at Cazalys in less than two years the venue is certainly getting a reputation amongst locals.  "Our members are starting to call us the Lucky Club" said Cazalys General Manager Jason Salecich.
The Jackpot winner, who wishes to remain anonymous, didn't realise he was a millionaire for more than an hour.  "It was a KWIKPIK Keno ticket and when no-one claimed the jackpot, we asked all Keno players to please check their tickets." said Jason Salecich, Cazalys General Manager."It didn't take long to find the winner after that!"
The winner, who wishes to remain anonymous, is a 61 year old Cairns grandfather.After emigrating from Bosnia 20 years ago he and his family are proud to call Cairns home.He is very surprised and excited by the win and said he is still deciding what to do with the money, but said he "will probably buy a house" with some of his winnings.
"All of our staff are thrilled that another one of our members is now a millionaire.We couldn't be more happy for him." said Jason Salecich, General Manager of Cazalys.