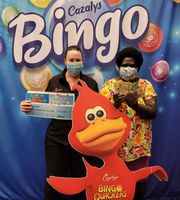 Maggie is definately smiling behind the mask!! She is our latest BINGO QUACKERS WINNER! She has scored herself $10,000 in Cash.
A long standing Cazalys member, congratulations on your win.
Bingo is played at Cazalys 7 days a week, Bingo Quackers can be played on Monday night, Wed night, Thursday morning and night sessions & Friday mornings. Bingo Quackers only at Cazalys! For more information email bingo@cazalys.com.au .