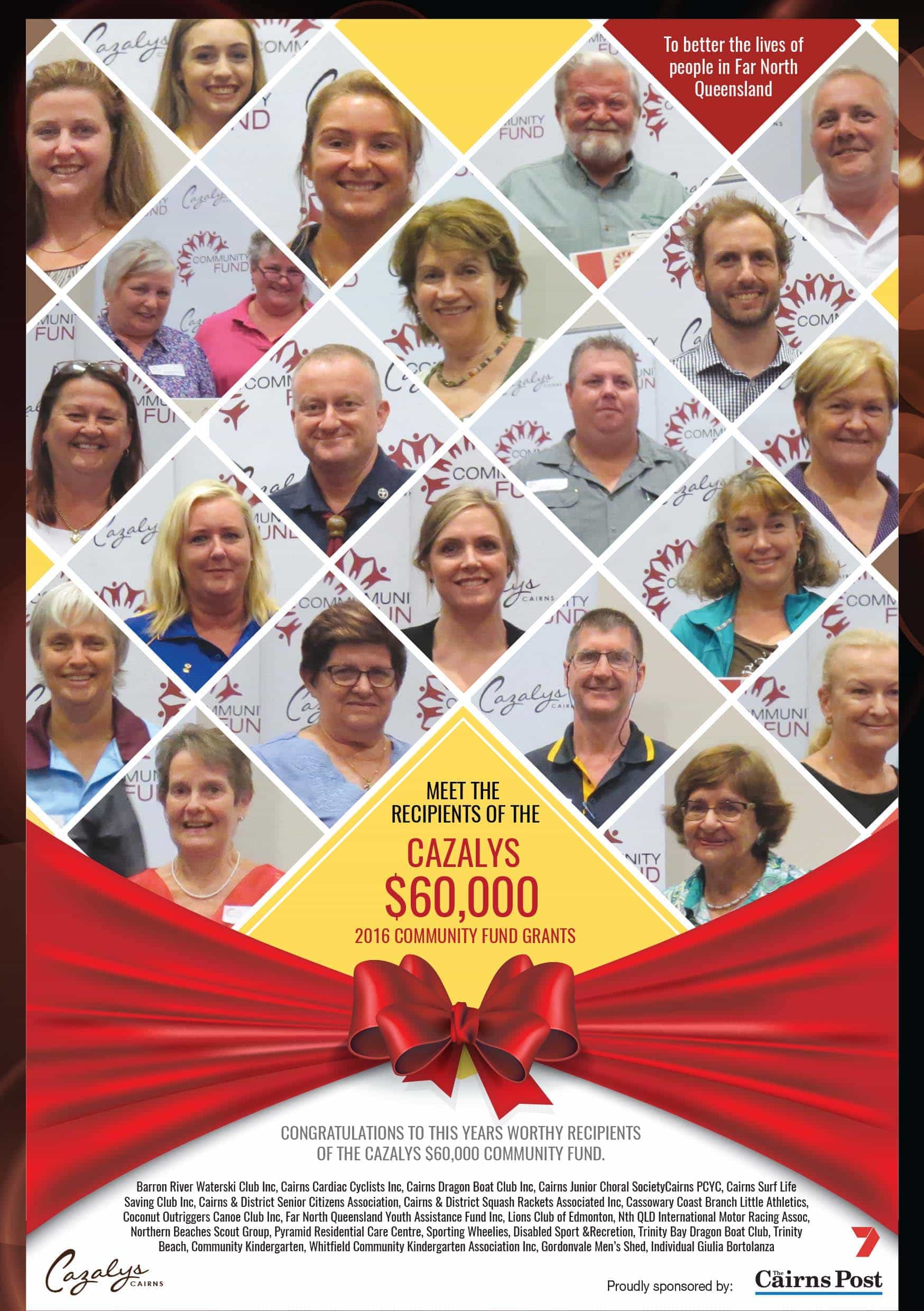 The 9th annual Cazalys Cairns $50,000 Community Fund 2016 which included an extra $10,000 this year, making a total of $60,000 in grants for this year, wrapped up last night (6th September) with a presentation ceremony held at Cazalys. Over 70 dignitaries and worthy recipients were in attendance to see how the $60,000 had been allocated this year.
Cazalys has contributed a massive $460,000 in Cash Directly to those who help support our Community since the $50,000 Community Fund was launched in 2008. The purpose of the Fund is based on a common view of community contributions and the need to support, our wider community groups and individuals, with a little extra funding.
"The purpose of the Community Fund is something the Board and I are passionate about, and comes
from the importance Cazalys attaches to our Community position and our responsibilities within it. said Jason Salecich " We make donations to charities, community groups, health, artistic and support groups, and individuals, who deserve community funding support to pursue their grand achievements in our community."
Cazalys success is imbedded in our engagement of the Cairns Community from the Board right down to the our great staff. Each year directly or indirectly Cazalys will support more than 180 organisations per annum.
– In partnership with AFL Cairns, our direct cash contribution in the millions to the clubs, ovals, umpires and the kids to support our great game AFL in the Far north.
– We have raised in excess of $50,000 for the Hospital Foundation in the last five years.
– Our staff contribute to the annual Cancer Councils biggest morning Tea and the RSPCA cupcake day raising over $2000 in sugar baked treats.
– We are one of the few club who have been awarded Queenslands Club of the year and and even smaller group that has won it twice, in 2012 and 2015 for which we are immensely proud.
"A community Club is a unique model and something we should protect and be proud of- when you support a community club, you are supporting the community" said Jason Salecich.
We also want to thank our Judging panel this Year Councillor Cathy Zeigler, Mr Rob Pyne, Member for Cairns, Tineke Clark at Cairns Post, Glen Curtis at Channel 7 and Cazalys Board Member Gary Shirvington.
These people have given up their time and in turn guarantee the credibility and independence in how the monies are allocated to the recipients.
The 2016 winning applicants were:
Barron River Waterski Club Inc
Cairns Cardiac Cyclists Inc
Cairns Dragon Boat Club Inc
Cairns Junior Choral SocietyCairns PCYC
Cairns Surf Life Saving Club Inc
Cairns & District Senior Citizens Association
Cairns & District Squash Rackets Associated Inc
Cassowary Coast Branch Little Athletics
Coconut Outriggers Canoe Club Inc
Far North Queensland Youth Assistance Fund Inc
Lions Club of Edmonton
Nth QLD International Motor Racing Assoc
Northern Beaches Scout Group
Pyramid Residential Care Centre
Sporting Wheelies, Disabled Sport &Recretion
Trinity Bay Dragon Boat Club
Trinity Beach Community Kindergarten
Whitfield Community Kindergarten Association Inc
Gordonvale Men's Shed
Individual
Giulia Bortolanza